August 2, 2021
By David Lee Morgan Jr
Special to Dawg Days Basketball
Biddy Ball Division Championship Game

The Hoopers 30
Fam 4 7
The Hoopers knew what they were up against in the title game of the Biddy Ball division. A group of young ladies, Fam 4, that wanted to compete with the boys and had already defeated them in a hotly contested pool play game. That team-, Allison DeMassimo, Kylie Geiser, Aria Regan, and Ava Maibach faced the Hoopers who were all about business.



R.J. Walgate put the Hoopers ahead 5-0 with a 3-pointer, Jalen Hackett added another basket moments later, and eventually the Hoopers led 16-3. Aria Regan hit a free throw that made the score 19-5 but the Hoopers pushed the lead to 25-7. That's when Owen Hamilton scored the last five points, a layup, and a 3-pointer, to give the Hoopers the championship.

"They were super physical and aggressive, and I think that in their 5-on-5 division, they would be very good," said Hamilton, who is 13-years old and goes to Medina Middle School.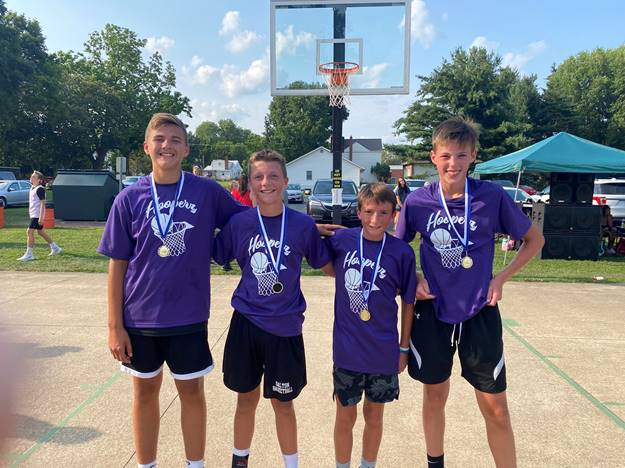 (Jalen Hackett, Carter Highnight, Owen Hamilton, and R.J. Walgate, Biddy Ball Boys Division Champs.)
David Lee Morgan Jr was a longtime Cleveland Cavaliers beat writer for the Akron Beacon Journal. His 2003 book, The Rise of a Star: LeBron James, won him critical acclaim (American Library Association, Cleveland Magazine, School Library Journal) as an author.