August 2, 2021
By David Lee Morgan Jr
Special to Dawg Days Basketball
8th Grade Girls Division Championship Game

Swish Chicks 30
Lady Crusaders 14
It was nothing but heart, fortitude, and determination that helped Reese Bedingfield, Macy Deppen, and Cam Wiers and the Swish Chicks win the 8th grade girls division championship. There was no other way to describe it. The players battled strong competition the entire day playing without an extra teammate. They were exhausted at the end of the day, but absolutely elated.



We had a hard time finding girls in our area to go play,' said Swish Chicks coach Joe Bedingfield, who is also the boys head basketball coach at Willard High school. "I was really proud of our girls competing with only three girls, and getting beat in the first game, winning an overtime game to get to the championship, and playing their best game all day in the championship to win convincingly."

The girls division started later in the day, but Reese Bedingfield and her teammates got to the courts at 8:30 a.m. because Reese's younger brother JJ played earlier.

"It felt really good since we did get beat pretty bad in our first game," Reese said. She didn't offer any excuses. Neither did her teammates. They knew it was going to be a long day and they kept grinding to get themselves into the championship game.

There, they faced a strong Lady Crusaders team which they lost to earlier in the day. The teams traded baskets early on but baskets by Bedingfield and Deppen gave the Swish Chicks a 19-12 lead. From there, the Swish Chicks went on an 11-2 run, with Wiers closing out the game with a driving layup in traffic.

"Waiting all day was worth it," said Wiers, as the players simultaneous bit into their medals as their family members and friends took their pictures.

As for his daughter's talent, Coach Bedingfield gave credit where it was due. "My wife Alanna played at Ashland (University), so all the talent comes from her."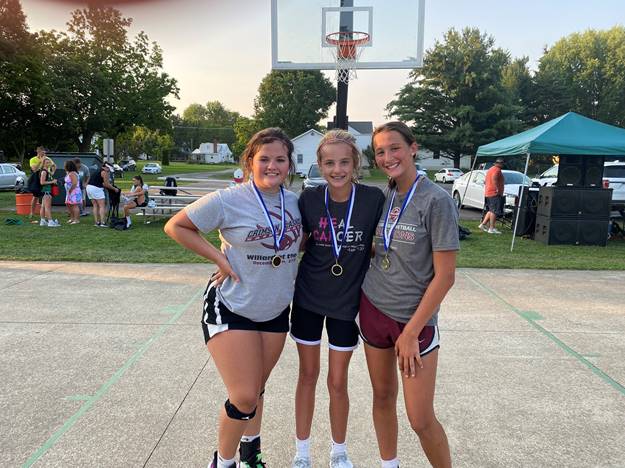 (Macy Deppen, Camryn Wiers, and Reese Bedingfield of the Swish Chicks, 8th grade division girls Champs.)
David Lee Morgan Jr was a longtime Cleveland Cavaliers beat writer for the Akron Beacon Journal. His 2003 book, The Rise of a Star: LeBron James, won him critical acclaim (American Library Association, Cleveland Magazine, School Library Journal) as an author.