July 30, 2022
By Morgan Wenger
Tournament Director
The 8th grade division started off with a bang as the Hoopers and Layup Laydown fought down to the wire in the first game of pool play. The game went back and forth from start to finish. Jalen Hackett (12 points) and RJ Walgate (11 points) paved the way for The Hoopers, but they could not overcome the stellar play of Brayden Cox. Cox scored from all over the court while recording a whopping 19 points to lead Layup Laydown to a 30-29 win.



The matchup between The Hoopers and Layup Laydown kicked off the most competitive pool play of this year's tournament. The Hoopers responded with an emphatic 30-15 win against a solid Norwayne team. Clutch started their day off with a 30-6 victory against Stranger Things and then scored a decisive 30-18 win against Layup Laydown behind the red-hot shooting of Lowen Ferguson. Ferguson connected on five three pointers as part of his 17-point outburst for Clutch. Case McDaniel led Layup Laydown with 12 points in a losing effort. Norwayne was the next team to face off with Layup Laydown. This was another game that was nip and tuck the entire way. Braylon Arnold led a balanced Norwayne attack with 10 points, but Layup Laydown survived with a 30-27 win. Case McDaniel (12 points) and Brayden Cox (10 points) had big games for Layup Laydown. Just as soon as it looked like Clutch was the team to beat in the division, The Hoopers flexed their muscles before bracket play by defeating them 30-17. The Hoopers were firing on all cylinders as they spread the wealth between RJ Walgate (12 points), Bruin Flinner (8 points) and Jalen Hackett (8 points). Lowen Ferguson continued his hot shooting for Clutch as he tallied 13 points in defeat.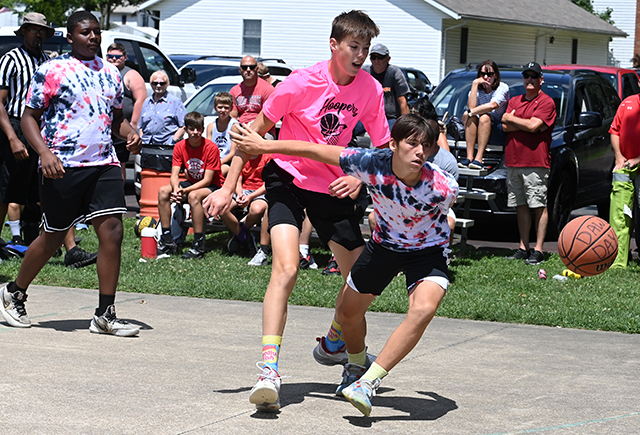 RJ Walgate of The Hoopers and Brayden Cox of Layup Laydown battle for a loose ball

As the dust settled on pool play, The Hoopers earned the top seed followed by Clutch and Layup Laydown. The Hoopers got all they bargained for against a talented Norwayne team in the semifinals. Jaxson Gasser scored from inside and out on his way to a 12 point effort for Norwayne. Cade Leach found the range from outside the arc three times to add balance with nine points. The Hoopers, when stymied, went to Bruin Flinner to advance. Flinner, who seemed to warm up as the tournament progressed, posed a dominant stat line that included five three pointers and 19 points to lead his team to a hard fought 30-25 victory and a berth in the championship game. The other semifinal featured a rematch of the earlier game between Clutch and Layup Laydown. Layup Laydown was ready to battle this time around, and they went inside to Malakhi Gray throughout the game. Gray had not scored more than six points in any game up to this point, but he exploded for a dominant 16 points as he put his team on his back and into the championship game with a 30-27 win. Lowen Ferguson finished a great day of basketball with 16 points for Clutch in a losing effort.

This brought it all back to where it had started several hours earlier. Layup Laydown had defeated The Hoopers 30-29 in the opening round. The division title was on the line this time around. The Hoopers were out to remove all doubt as to who the superior team was in this game. Jalen Hackett led his team with 12 points in the championship game, but Owen Hamilton (9 points), Bruin Flinner (5 points), and RJ Walgate (4 points) all chipped in to lead The Hoopers to a decisive 30-16 win. Brayden Cox and Malakhi Gray each scored six points in defeat for Layup Laydown.



The Hoopers (Owen Hamilton, RJ Walgate, Bruin Flinner, and Jalen Hackett)